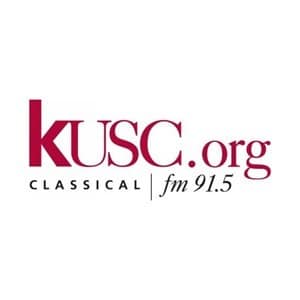 Vital stats:
Format: arts-and-culture magazine
Duration: ~50m
Frequency: weekly
Archive available on iTunes: last 20
KUSC is, as you may know, a classical music station in Los Angeles. I'm not revealing a secret here: it's got "USC" right there in the call letters, and it's almost without exception referred to as "Classical KUSC". If you're outside Southern California and/or don't care about classical music, you're probably gearing up to blow right past the rest of this review, but hold up; I'm going to talk about the one show of theirs that's got a wider mandate than you'd imagine.
Of course, I myself chose to write up Arts Alive [RSS] [iTunes] because, as Podthoughtreaders know, my relocation to L.A. is imminent. Well, "imminent" in about a year, but still, it's never too early to orient yourself in your next home through its film, its literature, its radio, and its podcasts. For this reason and others, I've been a KUSC listener for a while via its repeater in Santa Barbara. Arts Alive airs on Saturday mornings, and I've come to realize it's just about the exact thing I want to hear on Saturday mornings.
The program is what you might call a "magazine show," a bit like KPCC's Off-Ramp, about which I previously Podthought for similarly L.A.-related reasons. Admittedly, much of its content has some kind of Southern California connection, even if tenuous, and an equally sized slice has a lot to do with classical music, but those are merely its dual entry points into the larger cultural world. Among the segments this description would not immediately lead you to expect are a conversation with Paul Giamatti [MP3], another with experimental novelist Mark Z. Danielewski [MP3], and one with Los Angeles Times film critic Kenneth Turan about what's wrong with the new Harry Potter movie [MP3].
Turan drops in as one of the program's regulars, as does KUSC's Alan Chapman, who hosts my other favorite program on the station, the 20th-century-centric Modern Times. (I sit around wishing that show would podcast, too, but I'm sure record-label litigiousness will keep that from happening for, oh, at least a year or two.) USC Thornton School of Music dean Rob Cutietta shows up every time for a feature called "Ask the Dean", where he does his best to address listener questions about, the state of classical music today, the relationship between music and mathematics, and whether ghosts live in practice rooms. Though both the one-off and regular features are immaculately well-produced, they're often cut in such a fashion that you don't hear the questions: the announcer summarizes what the guest is going to say, then you hear the guest say it. What an odd way to edit.
Despite the fact that it undergirds a substantial portion of Arts Alive's content, I hesitate to say too much about the show's relationship to classical music. This has much to do with my squirreliness about the very concept, which I won't be able to articulate any better than Alex Ross did in the New Yorker: "I hate 'classical music': not the thing but the name. It traps a tenaciously living art in a theme park of the past." But when this show talks about classical music, it doesn't do so with the kind of weird off-putting fixation associated with the form's hardcore fandom. Nevertheless — and this is going to come off pretty grand — I'm glad to have a general arts-and-culture show that's shaped by the better elements of the classical-music sensibility. If that makes any sense.
[Podthinker Colin Marshall also happens to be the host and producer of public radio's The Marketplace of Ideas [iTunes], the blogger of The War on Mediocrity and the writer of The Ubuweb Experimental Video Project.]