More information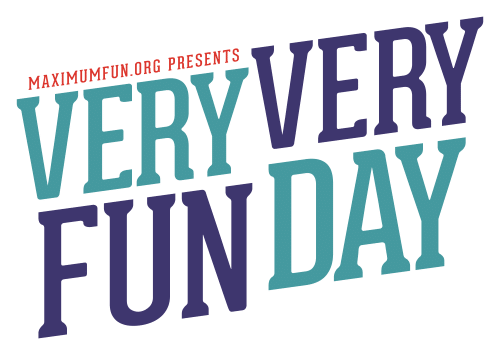 Very Very Fun Day is a one-day podcasting festival that combines the signature joy and comedy of Maximum Fun's internationally renowned podcasts with outstanding local talent in cities across America. On Saturday, February 11th, Maximum Fun brings Very Very Fun Day to Chicago's Thalia Hall for an unforgettable day of laughs.
VVFD will feature the Maximum Fun podcasts Judge John Hodgman, Jordan, Jesse Go!, The Flop House, Oh No Ross and Carrie!, and Stop Podcasting Yourself, along with other festivities, including local podcasts Nerdette, Friendshipping, and Reclaimed Soul with Ayana Contreras, stand-up comedy sets from local comics, Q&A's, and more, all spread across Thalia Hall's three spaces.
Advanced tickets are sold out, but a limited number of day-of admissions will be available at the door for $65.
——————————————————————————-
SCHEDULE OF THE DAY
**Thalia Hall (main stage)**
11:30am – Doors Open
12:00pm – Jordan, Jesse, Go!
2:00pm – Oh No, Ross and Carrie!
4:30pm – Stop Podcasting Yourself
6:00pm – Battle Royale: A giant disastrous mess with too many MaxFun hosts and no format at all. Like putting ice cream on a pizza and then putting it all in a nice chicken soup. No promises.
8:00pm – Judge John Hodgman
10:00pm – The Flop House
**Punch House**
4:30pm – Nerdette
6:00pm – Hello from the Magic Tavern
8:15pm – Reclaimed Soul
9:30pm – Stand-up Showcase featuring Dwayne Kennedy, Graham Clark, Stephanie Hasz, and Ricky Carmona
* Signings and Q&A throughout the day – schedule to be posted day-of *
**Tack Room**
1:00pm – Friendshipping!
* Signings and Q&A throughout the day – schedule to be posted day-of *
——————————————————————————-
Special thanks to our media sponsor: