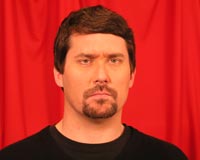 We continue our journey into The Sound of Young America's vast audio archive with this program from The Sound of Young America Classics.
On this week's show Good Friends and Great Times we're joined by guests comedian Doug Benson and author James Frey.
Doug Benson, a stand-up comedian, was part of the writing team who created and performed in the off-Broadway comedy show The Marijuana-Logues. Doug is a real movie lover, so coming up on the show Doug brings us a summer movie preview including his opinion on "Star Wars" and "Mr. and Mrs. Smith". There's also a discussion on taxidermy squirrels!
We also talk to James Frey, award winning author of "My Friend Leonard", a memoir based on his friendship with a mobster Leonard, whom he met in a rehab clinic.
Please share your thoughts on the show in the comments section!
Download This Week's Show
Subscribe to TSOYA Classic in iTunes
Please Donate to Support the Show